The Hyundai i30
is the best small car ever made in Korea. Although it calls Seoul home, this elegant and keenly priced newcomer was styled in Germany and its suspension and steering have been optimised for Australian conditions. In the last few years the Korean automotive industry has come of age and the i30 has clear advantages over rivals from Europe and Japan.
Back in 1986 when the Hyundai Excel was the first Korean car ever offered to Australian customers, its main merit was price. How things have changed in the succeeding generation. The i30 has excellent performance and handling, stylish design and a load of standard features. And while the value for money is better than ever, this newest compact Hyundai hatch goes one better by lowering the entry price of turbo diesel motoring. At $21,490 the SX CRDi variant is thousands of dollars cheaper than its closest rival. To get the benefits of a diesel engine, small car buyers have until the arrival of the i30 had to think of paying close to $30,000.
Every i30 model is keenly priced. The 2.0-litre petrol manual SX opens its account at $18,990. Specify Hyundai's Protectz Pack for an additional $1800 and your car will be equipped an electronic stability program (ESP), traction control system (TCS), plus curtain and front side airbags. The Protectz Pack bolsters an already impressive level of standard safety equipment which includes two front airbags, two front seat-mounted side-impact thorax airbags, three rear seat head restraints and anti-whiplash head restraints (front seats). Air-conditioning with pollen filter, power windows, remote entry with alarm, heated mirrors, a USB port and the opportunity to connect your iPod are all surprises in such an inexpensive car.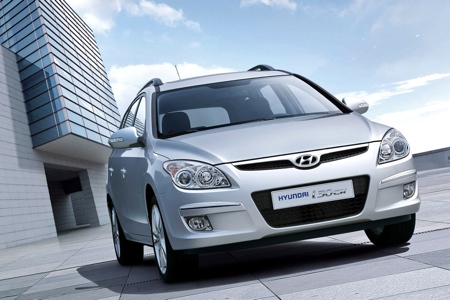 The mid-range model is the SLX which includes the additional airbags as well as 16-inch alloys, leather-bound steering wheel, trip computer, rear seat armrest and twin tweeters to take the speaker tally to six. It is priced at $23,490 for the manual and the automatic costs an extra $2000. The i30 SR looks as if it costs $40,000 rather than $26,490 in manual form. Chrome-style 17-inch alloys, a body kit, leather highlights on the seats and an in-dash six CD stacker are standard inclusions as are ESP and TCS.
Hyundai should do well with its i30 range. Perhaps the most impressive aspect is the value for money, especially in the entry level SX model when equipped with the turbo diesel engine. Handling is good and the build quality is comparable with anything out of Europe or Japan in this price range. Throw in the five-year warranty and fuel economy from the diesel of 4.7 litres per 100 kilometres and you have a recipe for inexpensive motoring.